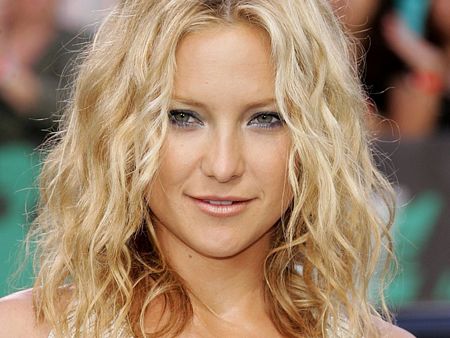 Kate Hudson (Los Angeles, Kalifornija , 19. travnja 1979.), američka glumica, dobitnica Zlatnog globusa.
Kate Hudson rodila se i odrasla u Los Angelesu. Njena majka je slavna glumica Goldie Hawn, a otac Bill Hudson, glumac i komičar. Roditelji su joj se razveli 18 mjeseci nakon njenog rođenja pa je odrasla s majkom i očuhom Kurtom Russellom, kojega Kate smatra svojim drugim ocem. Ima mađarske, talijanske i židovske krvi.
Maturirala je 1997. godine i počela se baviti glumom, iako je bila primljena na Njujorško sveučilište. Kao dijete slavnih roditelja nije htjela da ju se povezuje s njima, ili da dobiva uloge zbog svog porijekla.
Prva značajna uloga bila joj je ona u filmu Korak do slave iz 2000. godine, za koju je nominirana za Oscara, a dobila je Zlatni globus. Među daljnja ostvarenja ubrajaju se naslovi Četiri pera (2002.), Alex i Emma (2003.), Kako se riješiti frajera u 10 dana (2003. - partner Matthew McConaughey), Ključ tajni (2005.) i Ti, ja i Dupree - partner - Owen Wilson, Nije zlato sve što sja (2008). Do sada je ostvarila 19 uloga.
Hudson je sedam godina bila udana za Chrisa Robinsona, pjevača rock skupine The Black Crowes, s kojim ima sina Rydera. Par se razveo 2007. godine. Kratko je hodala s Owenom Wilsonom, a nakon što je on, nekoliko mjeseci nakon prekida njihove veze, pokušao samoubojstvo, pojavile su se brojne špekulacije oko njegovog motiva za taj čin. Par je u proljeće 2008. kratko vrijeme ponovo bio zajedno, da bi Hudson u svibnju počela izlaziti s bivšim biciklističkim prvakom Lanceom Armstrongom.
Iako je Kate Hudson odgojena kao Židovka, nije pretjerano religiozna, ali je naglasila da je ljuti antisemitizam koji je vidjela u Parizu. Tužila je englesko izdanje časopisa "The National Enquirer" nakon što su napisali da je "neprirodno mršava". Časopis "People" svrstao ju je u svibnju 2008. na prvo mjesto liste "Sto najljepših ljudi na svijetu"
_________________
Lijepa je, ima nekoliko dobrih uloga.

Polly Samson

Dangerous Lady





Mesečarka


Broj poruka :

8397


Godina :

22


Location :

Proleće



Lijepa je i dobro glumi. Barem meni :D
_________________
Yeah, you can be the greatest
You can be the best
You can be the King Kong banging on your chest

You could beat the world
You could beat the war
You could talk to God, go banging on his door
♥
_________________

Bloody.Mary

Moderator





Broj poruka :

11102


Godina :

25


Location :

tegla šećera



Meni jedna od najiritantnijih glumica.
_________________
---
Permissions in this forum:
You
cannot
reply to topics in this forum